College basketball is generally not the first thing that comes to mind when considering athletic tradition in the New England. The region is and always has been dominated by professional sports, and rightfully so. Boston is home to a team in each of the four major professional sports leagues, each of which has won a championship in its respective league in the last 10 years. No other city in America can make that claim.
New England tradition, however, is ingrained in the fabric of college basketball.
With dominant programs such as Holy Cross in the late '40s to mid-'50s, with All-Americans and future Celtics Bob Cousy and Tommy Heinsohn, UMass in the 90?s led by John Calipari, Lou Roe and Marcus Camby, or UConn?s run of 12 NCAA tournaments, four Final Four appearances, and three national championships from 1998-2012, New England has been home to some of college basketball?s biggest names and most famous moments.
Even Northeastern University?a school not known for its athletic accomplishments?boasted a basketball program, led by Jim Calhoun and three-time America East Player of the Year Reggie Lewis, that made seven NCAA tournament appearances from 1981-1991.
Players and teams from New England continue to make their mark on the college basketball world, as evidenced by Harvard?s shocking, bracket-busting win over New Mexico last March. With the college hoops season just over a month away, here is a look at the top 10 squads in New England heading into the 2013-14 campaign.
?
10. Bryant University
Junior guard Dyami Starks (17.7 PPG) and senior forward Alex Francis (17.4 PPG, 8.6 RPG) will lead the way as Bryant searches for its first-ever NCAA Tournament appearance as a member of Division I. The Bulldogs finished tied for second in the Northeast Conference last year with a 12-6 mark, just three seasons removed from a 1-17 record in conference play and a 1-29 overall finish.
?
9. Boston University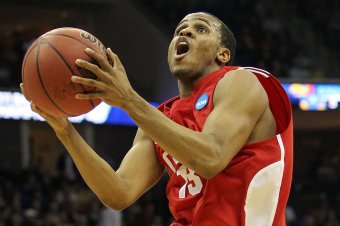 Ronald Martinez/Getty Images
D.J. Irving, Boston University
The Terriers make the switch over to the Patriot League a year after finishing third in the America East standings with an 11-5 conference mark. BU will be led by senior guard D.J. Irving (14.2 PPG, 3.3 RPG, 3.6 APG), who instantly becomes one of the best players in the conference.
?
8. University of Vermont
Vermont has been one of the most successful programs in the America East, having won 20 games or more in five consecutive seasons. The Catamounts return senior forwards Brian Voelkel (6.0 PPG, 8.6 RPG, 4.9 APG) and Clancy Rugg (11.4 PPG, 5.7 RPG), both of whom represented Vermont on the 2013 All-Conference team. The Catamounts have made five NCAA tournament appearances since 2003, and they should be favored to win their conference and reach the Big Dance again this year.
?
7. University of Rhode Island
The Rams sported a miserable 3-13 Atlantic 10 record last season, but they should be considerably better in 2013-14. Prolific scoring senior guard Xavier Munford (17.4 PPG) will team up with transfers Biggie Minnis (Texas Tech), Jarelle Reischel (Rice) and Gilvydas Biruta (Rutgers), as well as highly touted freshman guard E.C Matthews for second year head coach Dan Hurley. Don't expect a top-five A10 finish, but Rhode Island should be able to double its conference win total from a year ago.
?
6. Northeastern University
Quincy Ford, a?6?8?? forward (12.2 PPG, 5.8 RPG), becomes the go-to guy in coach Bill Coen?s offense following the departures of Joel Smith (16.1 PPG) and Jonathan Lee (13.8 PPG). The Huskies will be one of the top three teams in the Colonial Athletic Association, but they will need to win the conference tournament to secure an NCAA bid?something they failed to do last year after winning the regular-season CAA title.
?
The Top Tier
?
5. Boston College
With no major losses in personnel from last season, this young Boston College team will continue to improve under head coach Steve Donahue. This year's Eagles will be led by two players: junior forward Ryan Anderson (14.9 PPG, 8.0 RPG in 2012-13) and sophomore guard Olivier Hanlan, who led BC last year with over 15 PPG as a freshman, while also contributing 4.2 RPG and 2.3 APG.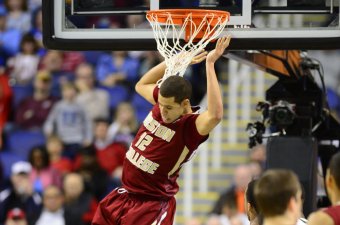 Bob Donnan-USA TODAY Sports
Ryan Anderson, Boston College
Boston College certainly has challenged itself with its non-conference schedule, a slate that includes Providence, UMass, UConn, Purdue, USC, Auburn, VCU and Harvard?not to mention the gauntlet that is the ACC schedule. Although this team will be better than it was last year, so will the ACC. The NCAA tournament probably isn't in the cards for BC in 2013-14, but look out for the Eagles in 2014-15, when Hanlan and Anderson have another year of experience battling it out in the best basketball conference in America.
?
Games against New England teams:
Nov. 8 at Providence

Nov. 10 vs. UMass

Nov. 21 vs. UConn

Nov. 26 vs. Sacred Heart

Jan. 1 at Harvard
?
4. Providence College
Although Providence lost a leader and a pure point guard in Vincent Council, the Friars still have Bryce Cotton, one of the best pure scorers in all of college basketball. Cotton led the Big East last season with 19.4 PPG, topping the 20-point mark in 19 games. Providence has a formidable presence under the basket as well, with forwards LaDontae Henton and Kadeem Batts combining to average over 28 points and almost 16 rebounds per game in 2012-13.
The job of replacing Council's point guard duties will fall mainly to sophomore Kris Dunn, who averaged 5.7 PPG, 4.8 RPG and 3.2 APG last season as a freshman. Dunn should be fully capable of running the Friar offense and distributing to Cotton, Batts and Henton, while also providing scoring ability and even a knack for rebounding.
Providence should be a middle-of-the-pack team in the new-look Big East, with an opportunity to earn an at-large bid if the Friars can continue their progression from a season ago.
?Games against New England teams:
Nov. 8 vs. Boston College

Nov. 13 vs. Brown

Nov. 18 vs. University of Vermont

Nov. 29 vs. Fairfield

Dec. 5 at Rhode Island

Dec. 17 vs. Yale

Dec. 21 vs. Maine

Dec. 28 at UMass
?
3. University of Massachusetts
UMass has its most talented team in head coach Derek Kellogg's tenure heading into the 2013-14 season. The 5?8?? floor general, Chaz Williams, is back for his senior season, and he should feel less pressure on the offensive end of the floor with the continued emergence of big man Cady Lalanne and the addition of guard Derrick Gordon, who transferred from Western Kentucky after his freshman season and is expected to make an impact right away for the Minutemen.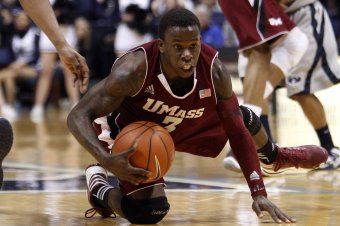 Frank Victores-USA TODAY Sports
Chaz Williams, UMass
UMass has made appearances in the NIT the past two seasons, but they will be looking to take it to the next level this season with their first NCAA tournament bid in 15 years. For that to happen, the Minutemen will need to win a good portion of their "statement games," something they failed miserably at last season. UMass dropped home contests to Miami, Temple and Butler, as well as road tests at VCU and Saint Louis. If the Minutemen can buck that trend and raise their game when the pressure is highest, Derek Kellogg will have his first NCAA tournament appearance as head coach of his alma mater.
?
Games against New England teams:
Nov. 10 at Boston College

Dec. 28 vs. Providence College

Feb. 9 at Rhode Island

Feb. 26 vs. Rhode Island
?
2. Harvard University
Harvard enters the upcoming season with two consecutive NCAA tournament appearances under its belt, including the previously mentioned shocker over New Mexico in last year?s tourney. The Crimson picked up their first-ever win in the tournament without their leaders from the year before, guard Brandyn Curry and forward Kyle Casey, who withdrew from Harvard for a year following an academic scandal. Both players will be back as seniors this year to lead a deep, talented squad.
Sophomore point guard Siyani Chambers, who performed admirably after stepping into a starting role last season as a freshma (12.4 PPG, 5.7 APG), will now split time with Curry. Senior guard Laurent Rivard (10.3 PPG, .402 3P% last year) will play a key role in the Crimson offense as a long-range specialist, as will do-it-all junior Wesley Saunders, who averaged 16.2 PPG, 4.2 RPG and 3.5 APG for last season?s Ivy League champions.
The squad that steps on the floor for Harvard in 2013-14 will likely be the most talented in program history, and no one should be surprised if/when this team appears in the Top 25.
?
Games against New England teams:
Nov. 10 vs. Holy Cross ? ? ? ? ? ? ? ? ? ? ?

Nov. 20 vs. Bryant ? ? ? ? ? ? ? ? ? ? ? ? ? ?

Dec. 4 at Northeastern ? ? ? ? ? ? ? ? ? ? ?

Dec. 7 at Boston University ? ? ? ? ? ? ? ?

Dec. 21 vs. Vermont ? ? ? ? ? ? ? ? ? ? ? ? ?

Jan. 1 vs. Boston College ? ? ? ? ? ? ? ? ??

Jan. 8 at UConn

Jan. 11 vs. Dartmouth?

Jan. 25 at Dartmouth

?

?

Feb. 7 vs. Brown

?

?

Feb. 8 vs. Yale

March 7 at Yale

March 8 at Brown

? ? ? ? ? ? ? ? ? ? ? ? ? ? ? ? ? ? ? ? ? ? ? ? ? ? ? ? ? ? ? ? ? ? ? ? ? ??
?
1. University of Connecticut
UConn is the top team in New England heading into 2013-14, regardless of the fact that the Huskies were absent from postseason play a year ago due to an NCAA ban for poor academic standing. UConn returns the most talent in the region, including NBA prospects Shabazz Napier, Ryan Boatright and DeAndre Daniels. Napier is the leader of the pack, as the senior guard returns after leading UConn in minutes per game (37.3), as well as points (17.1) and assists (4.6).
The Roxbury, Mass. native also has a quality that is extremely valuable?postseason experience. As a freshman in 2010-11, Napier was a contributing member of the UConn squad that won five games in five days at the Big East Tournament before defeating Kentucky and Butler on its way to the third national championship in program history.
Second-year head coach Kevin Ollie will have these Huskies hungry for a return to the NCAA tournament, after a rare March in which UConn was nowhere to be found on tourney brackets. With the leadership and scoring ability of both Napier and Boatright and the inside presence of forwards Daniels and Tyler Olander, UConn will be one of the top teams in the new American Athletic Conference, and the Huskies should find themselves back in a familiar place come March: the NCAA Tournament.
?
Games against New England teams:
Nov. 11 vs. Yale

Nov. 17 vs. Boston University

Nov. 21 at Boston College

Dec. 6 vs. Maine

Jan. 8 vs. Harvard
Source: http://bleacherreport.com/articles/1797842-ncaa-basketball-2013-14-preseason-new-england-power-rankings
katie couric good morning america the rock vs john cena acm awards 2012 ncaa final game reba mcentire acm awards global payments